---




updated 2/25/19

click directly to:
picture discs | 12" import vinyl | 12" U.S. vinyl | 7" import vinyl | album inserts**
cover to cover tribute CD | compact discs | cassettes | 8-tracks





**We accept CREDIT CARDS through PayPal.com**
PRICES DO NOT INCLUDE SHIPPING
We will write you back

ASAP

to confirm your order and request shipping fees


<>

PICTURE DISCS




<>
U.S. 1987 CRAZY NIGHTS OFFICIAL PICTURE DISC

*Signed by BRUCE KULICK


(NM, still in original plastic [EX-] with original sticker on front) - $35

U.S. 1987 CRAZY NIGHTS OFFICIAL PICTURE DISC
(NM, still in original plastic [EX-] with original sticker on front) - $25
*new low price

top of page

KISS MY ASS

(1994 1st pressing limited edition

RED VINYL

gatefold. Cover NM, vinyl/sleeve MINT [never played!]
) - $20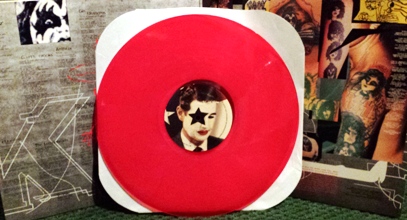 top of page




7" 1979

GERMANY

"I Was Made For Lovin' You"/"Hard Times" Picture Sleeve
(Casablanca/Bellaphon BF-18667, cool '76-era front cover & back cover shows 'Dynasty' mystery album cover, so this is somewhat of an overseas promo before the album was officially released in Europe

.

EX- cover/EX+ vinyl) - $15


7" 1979

ITALY

"I Was Made For Lovin' You"/"Hard Times" Picture Sleeve
(

Casablanca/Durium CA-527

, VG+ cover/NM- vinyl) - $15

- U.S. 7" SINGLES -

*all singles come with original sleeve **unless otherwise noted


1976 "Shout It Out Loud" / "Sweet Pain" (Casablanca BLUE LABEL NB-854,
original tan sleeve
,
EX+) - $15


1976 "Beth" / "Detroit Rock City" (Casablanca NB-863,
EX+) - $7


1976 "Hard Luck Woman" / "Mr. Speed" (Casablanca NB-873,
EX+) - $7


1977 "Love Gun" / "Hooligan" (Casablanca NB-895,
EX+) - $7


1977 "Shout It Out Loud [live]" / "Nothin' to Lose [live]"
(Casablanca NB-906,
EX+ vinyl. Sleeve EX- with b/w xerox cut-outs taped on to original sleeve) - $7


1979 "I Was Made For Loving You" / "Hard Times" (Casablanca NB-983,
EX+) - $6


1980s "Beth" / "Hard Luck Woman" (Mercury 814 303-7 [Casablanca reissue label],
white
sleeve,
EX+) - $4


1980s "I Was Made..." / "Rock and Roll All Nite (Live)" (Mercury 814 304-7 [Casablanca reissue label],
white
sleeve,
EX+) - $4


*SPECIAL! Take ALL 8 45s above for just $45*


1980 AUSTRALIAN 'STARCALL' COMPILATION

FEATURING KISS


(Rare LP with "Shandi" leading off album [Side 1, Track 1] with other early 80s stars including Elton John, Hall & Oates & many others. Back cover features

Unmasked

shot
w/

ERIC CARR

-- his *first* time pictured on an LP as a

KISS

member! NM-) - $15

**new low price



| | |
| --- | --- |
| FRONT OF ALBUM | KISS PICTURE ON BACK COVER |


1978

DOUBLE PLATINUM

8-TRACKS
(Casablanca NBL87100 1st edition run of this classic double 8-track set on white shell, w/clean labels all around! EX+) - $12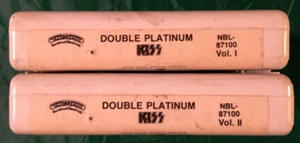 <>top of page


<>




KISS

JAPANESE IMPORT CDs
(
Awesome sealed/mint/never played CDs from the 1997 remaster series, with mini-insets and replica booklets from the original LPs. Each CD here comes with original packaging plus those often-missing "OBI" strips. Don't miss this chance to get these rare import CDs at a great price!

$18/each (single CD) // $25 (double-CD)

**new low price!

*SPECIAL! Take ALL 5 Japanese remaster CDs for $89 together*


Track list:
"Kissin' Time" - Nightmare
"Then She Kissed Me" - Jon Rubin (*yes that's me!)


"Any Way You Want It" - Picture 21
"Tossin' and Turnin'" - Marc Zouhar
"New York Groove" - Great Jones
"When You Wish Upon A Star" - Syntax Error
"2000 Man" - Captain T & Ostronomy
"God Gave Rock and Roll To You III" - V.O.G.
"Do You Remember Rock n' Roll Radio" - SLACK

OUT-OF-PRINT 2005
KISS TRIBUTE CD!
'KISS Cover to Cover'
Yet another great tribute CD from passionate and devoted KISS fans, except this time there's a twist; KISS Cover to Cover features new versions of songs KISS covered in their career, which makes for a fun and refreshing angle. KISS Cover to Cover spotlights songs originally recorded by the likes of The Rolling Stones, Bobby Lewis, and Argent, and are now being given a 3rd dimension by up-and-coming artists. 9 tracks covering 30 years of KISS covers, all in varied and unique styles. Additionally, KISS Cover to Cover also contains computer-accessible bonus features! Released by Lunar Moth Records, 2005 (MINT) - $5




"DIMESTORE ROMEOS" by alt-country legends THE McGEES -
Full-length pop/rock/country CD **featuring unique version of the ACE FREHLEY classic "Rock Soldiers"**
(from 2001, 12 songs total, excellent unsigned band with bizarre KISS influence! Sealed, M) - $5
Visit www.mcgeesmusic.com for more info on this cool band!

"IN TIME" by New York '90s hard rockers SKY BLUES
1997 full-length rock/hard rock CD featuring melodic heavy groove rock with juicy leads and hooky choruses, boasting a strong 70s/80s hard rock influence (KISS being one of many).
And oh yeah - this is my band (co-founder/lead guitarist) -- so thanks for your support!! Sealed, M) - $5
Visit www.skyblues.com for more info on my band!
<>

**SPECIAL - TAKE

ALL 8 CDs [+2 non-KISS cds above]

FOR JUST $99**

WOW!!



<>top of page



1982

KISS KILLERS

WEST GERMAN

CASSETTE
(Casablanca West German import w/alternate logo and black shell, Rare! EX-) - $7


SOLD



top of page