---




updated 10/25/14

click directly to:
picture discs | 12" import vinyl | 12" U.S. vinyl | 7" import vinyl | album inserts**
cover to cover tribute CD | compact discs | cassettes | 8-tracks





**We now accept CREDIT CARDS through PayPal.com**
PLEASE USE THE SHOPPING KART SYSTEM FOR YOUR CONVENIENCE - PRICES DO NOT INCLUDE SHIPPING
We will write you back ASAP to confirm your order and request shipping fees


<>

PICTURE DISCS (Foreign & U.S.)




1982 U.S.

CREATURES OF THE NIGHT

12" DOUBLE-GROOVE A-SIDE (Awesome rare 12" single with

ETCHED AUTOGRAPHS

printed on the actual vinyl from

Gene

,

Paul

,

Ace

&

ERIC CARR

! Also features "Rock and Roll All Nite" [Live].
Comes in original plastic with yellow sticker. Plastic EX, Vinyl NM) - $75

SOLD
U.S. 1987 CRAZY NIGHTS OFFICIAL PICTURE DISC
(NM, still in original plastic [EX-] with original sticker on front) - $25
*new low price

top of page

THE ORIGINALS

(1976 2nd pressing [Canada]- 3-LP set w/NM booklet, Cover EX+, vinyl NM-, glossy sleeves EX+, no cards or sticker, minimal ringwear which is rare for this item, overall EX+) - $50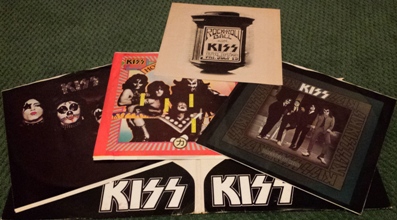 1977 U.K.

"THE SHE KISSED ME"

12" SINGLE




(Casablanca/PYE #CANL-110, "Then She Kissed Me"/"Flaming Youth"/"Hooligan", with cool Love Gun center ring. Cover EX+ with NM- vinyl, small blue ink writing on one side of label) - $30


1982 WEST GERMAN

"BEST OF THE SOLO ALBUMS"

COMPILATION




(Never released in the U.S., this rare W. German import features 3 cuts from each of the 4 1978 solo albums, and of course the altered 'KIZZ' logo. NM cover with NM- vinyl

) - $40

SOLD


1979 GERMAN

"I WAS MADE FOR LOVING YOU"

12" MAXI-SINGLE




("I Was Made"/"Hard Times" 12" single on the Phonogram label. EX+ cover with NM- vinyl

) - $20


1980 AUSTRALIAN 'STARCALL' COMPILATION

FEATURING KISS


(Rare LP with "Shandi" leading off album [Side 1, Track 1] with other early 80s stars including Elton John, Hall & Oates & many others. Back cover features

Unmasked

shot
w/

ERIC CARR

-- his *first* time pictured on an LP as a

KISS

member! NM-) - $20

**new low price



| | |
| --- | --- |
| FRONT OF ALBUM | KISS PICTURE ON BACK COVER |


THE ORIGINALS

(1976 1st pressing - 3-LP set w/EX booklet. Cover EX-, vinyl NM-, sleeves EX, no card sheet or sticker. Bottom right corner ripped, overall VG+) - $40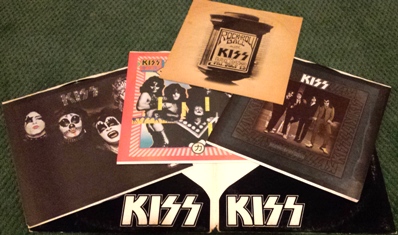 ALIVE!

(1975

TAN LABEL

2nd pressing - Cover EX-, vinyl EX-, 8-page booklet EX+, but w/Casablanca 1st pressing sleeves, NM) - $18



DYNASTY

(1979 2nd pressing, 90% sealed, w/MINT order form & MINT poster [no sleeve]. Cover NM, Sleeve/Vinyl NM) - $30



CREATURES OF THE NIGHT (1982 1st pressing, ripped & separated lyric sleeve. Cover EX-, Sleeve POOR, Vinyl EX+) - $18



UNPLUGGED (1996 Rare

YELLOW VINYL

gatefold 2-LP with 'Making of' full color poster inside! Includes "Got to Choose" bonus track.
The true beginning of the

KISS Reunion

! MINT & STILL SEALED) - $50


KISS MY ASS

(1993

RED VINYL

gatefold cover featuring great and unique versions of KISS songs by the hottest artists of the '90s. NM, unplayed) - $25


TREASURE feat. VINNIE VINCENT!

(1977 album from Felix Cavaliere released on Epic Records, with

Vincent Cusano

on lead guitar & backing vocals [plus co-writing]! This is Vinnie's major label debut, complete with a killer moustache and all :) 1st pressing PROMO [stamp on back cover upper left, over VV's face] & a "Demonstration - Not For Sale" sticker on bottom front cover]. Comes with 12" x 12" "All About Treasure" glossy paper insert. Cover EX-, Sleeve/Vinyl EX+) - $35

**SUPER RARE






PETER CRISS - OUT OF CONTROL

(1980 solo album from the Catman, 1st pressing PROMO [stamp on back cover upper left]. Cover EX+, Sleeve/Vinyl NM) - $25


top of page




7" 1979

GERMANY

"I Was Made For Lovin' You"/"Hard Times" Picture Sleeve
(Casablanca/Bellaphon BF-18667, cool '76-era front cover & back cover shows 'Dynasty' mystery album cover, so this is somewhat of an overseas promo before the album was officially released in Europe

.

EX- cover/EX+ vinyl) - $20


7" 1979

ITALIAN

"I Was Made For Lovin' You"/"Hard Times" Picture Sleeve
(

Casablanca/Durium CA-527

, VG+ cover/NM- vinyl) - $15

- U.S. 7" SINGLES -

*all singles come with original sleeve **unless otherwise noted

7" 1980s "Beth" / "Hard Luck Woman" (Mercury 814 303-7, white sleeve, EX+) - $5

7" 1987 "Crazy Crazy Nights" / "Hell or High Water" (888-796-7, picture sleeve, NM-) - $10
7" 1980s "I Was Made..." / "Rock and Roll All Nite (Live)" (814 304-7, white sleeve, EX+) - $5

7" 1986

VINNIE VINCENT INVASION

"Boyz Are Gonna Rock / "Animal"

"PINK VINYL PROMO

, Chrysalis, EX+) - $15

7" 1988

VINNIE VINCENT INVASION

ALL SYSTEMS GO

"SNEAK PEEK MEDLEY"


(ChrysalisVS-4 43253, PROMO, NM-) - $8



*SPECIAL - Take all 5 7" singles above for just $39!**




- ALBUM INSERTS, PROMO FLATS & MORE -



1978 18" x 24"

PAUL STANLEY

SOLO ALBUM MURAL POSTER


(Folded and never put up, MINT) - $15


1996
YOU WANTED THE BEST...
IN-STORE PROMO FLAT
(
12" x 12" 2-sided color promotional cardboard flat from your local record store, no rips or holes, EX+) - $3


ORIGINAL CD BOXES & PLASTIC CASES (!?!)
(
Remember these? No? Well then check 'em out! Before plastic cases, CDs used to come in either cardboard boxes or long protective plastic. Weird but true. These are opened of course - with no CDs inside - but a unqiue trip down memory lane you rarely see anymore. EX+)

SMASHES

,

CRAZY NIGHTS

&

HOT IN THE SHADE

- $10/all 3



ACE FREHLEY:

TROUBLE WALKIN' - $8




1974

HOTTER THAN HELL


(U.S. 1st pressing on black shell, No Box, minimal bubbling on bottom front (not on image), no rips, EX+) - $10


ON HOLD


1978

DOUBLE PLATINUM




(Vol. I & II - U.S. 1st pressing, No Box, pretty clean label, EX) - $12


ON HOLD

1978

GENE SIMMONS


(U.S. 1st pressing on black shell, No Box, some bubbling on label but no rips, EX-) - $7

ON HOLD

1979

DYNASTY


(U.S. 1st pressing on black shell, No Box, minimal bubbling on label, no rips, EX) - $10


ON HOLD




top of page

KISS:

NEW RECORDINGS: JIGOKU RETSUDEN

JAPANESE IMPORT

(2008

*JAPAN ONLY*

CD of 15 re-recorded KISS classics with Tommy & Eric making their studio debut.
Although these songs were made available as part of 'Sonic Boom', this is the real collector's CD right here. MINT & STILL SEALED w/OBI strip) - $65




"I WAS MADE..."

CD MAXI-SINGLE

GERMAN

IMPORT
(Rare late 80s 3-song Maxi-single includes "I Was Made For Loving You", "Hard Times" and the "I Was Made..." dance club remix from 1979.
On Casablanca/Phonogram, featuring

alternate KISS logo

. Slimcase CD played only a few times, EX+) - $20



SIGNED

KISS CDs

by

BRUCE KULICK




(

Here are 4 near mint CDs with

Bruce Kulick

signatures on the front of each booklet in clean, black Sharpie. All were signed at an early 2000s convention in the south.


Each CD & booklet is NM,

**ONLY $18/each

*new low price




*SPECIAL! Take ALL 4 Bruce Kulick autographed CDs for $65 together*



1987 "CRAZY CRAZY NIGHTS"
PROMO CD SINGLE
(Promo CD featuring the 1st single from Crazy Nights, Mercury Records promo, EX+) - $15



2010

KISS ICON

CD
(Great compilation of 12 '70s KISS classics,

STILL SEALED

/MINT) - $15



Track list:
"Kissin' Time" - Nightmare
"Then She Kissed Me" - Jon Rubin (*yes that's me!)
"Any Way You Want It" - Picture 21
"Tossin' and Turnin'" - Marc Zouhar
"New York Groove" - Great Jones
"When You Wish Upon A Star" - Syntax Error
"2000 Man" - Captain T & Ostronomy
"God Gave Rock and Roll To You III" - V.O.G.
"Do You Remember Rock n' Roll Radio" - SLACK

OUT-OF-PRINT 2005
KISS TRIBUTE CD!
'KISS Cover to Cover'
Yet another great tribute CD from passionate and devoted KISS fans, except this time there's a twist; KISS Cover to Cover features new versions of songs KISS covered in their career, which makes for a fun and refreshing angle. KISS Cover to Cover spotlights songs originally recorded by the likes of The Rolling Stones, Bobby Lewis, and Argent, and are now being given a 3rd dimension by up and coming artists. 9 tracks covering 30 years of KISS covers, all in varied and unique styles. Additionally, KISS Cover to Cover also contains computer-accessible bonus features! Released by Lunar Moth Records, 2005 (MINT) - $7




"DIMESTORE ROMEOS" by alt-country legends THE McGEES -
Full-length pop/rock/country CD **featuring unique version of the ACE FREHLEY classic "Rock Soldiers"**
(from 2001, 12 songs total, excellent unsigned band with bizarre KISS influence! Sealed, M) - $5
Visit www.mcgeesmusic.com for more info on this cool band!

"IN TIME" by New York '90s hard rockers SKY BLUES
1997 full-length rock/hard rock CD featuring melodic heavy groove rock with juicy leads and hooky choruses, boasting a strong 70s/80s hard rock influence (KISS being one of many).
And oh yeah - this is my band (I'm co-founder/lead guitarist) -- so thanks for your support!! Sealed, M) - $5
Visit www.skyblues.com for more info on my band!
<>

**SPECIAL - TAKE

ALL 11 CDs [+2 non-KISS cds above]

FOR JUST $165**

<>top of page



1982

KISS KILLERS

WEST GERMAN

CASSETTE
(Casablanca import from West Germany with alternate logo and black shell, Rare! EX-) - $8


top of page