Hello to KISS fans everywhere around the world! My name is Jon Rubin, and I'm a 47-year old KISS fanatic and collector from New York whose earliest memories include lip-synching "I Want You" at most family functions at the tender age of 4. Thankfully, my older brother Cliff was a big fan, and thus was my initial exposure to the greatest band of all time. In 1975, he actually taped KISS pictures to my baby crib, which for some reason my parents didn't know or they would have probably disowned him. So that is why I can say I was a fan almost literally from birth! Anyway, I grew up listening to KISS all the time, and was Ace Frehley for Halloween every year in elementary school (but never won the costume contest). Paul's solo album was the first KISS record I ever actually bought for myself (on cassette), while inheriting my brother's vinyl collection in 1979 after he and his trend-happy cronies decided KISS was no longer cool upon buying "Dynasty."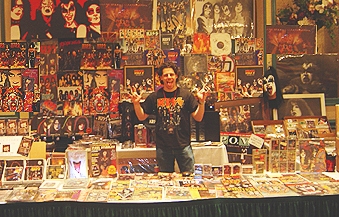 But I never gave up on them because I always felt that the notion of KISS was so much bigger than just one album; so when the music strayed a bit off course, I still knew that there was much more coming from this band in the future that I never lost the faith. To those who skipped out on the 80s

KISS

, you missed a great time (R.I.P.

Eric Carr

and the thunderous drum intro of "I Love It Loud" - need I say more?) and to those who kept the faith, we were repayed for our loyalty ten-fold, starting with the record-breaking 1996 reunion tour of the original line-up and the exciting Psycho Circus album & tour. Of course, we had the Farewell 2000 tour to enjoy, which never quite ended, yet after a handful of summer tours, 3 kick-ass KISSOLOGY DVD releases and a brand new studio album in 2009, KISS

found a way to stay relevant through another decade. Now over 45 (!) years later, their music clearly lives on, and all the naysayers and critics who thought it was a joke can only laugh at themselves now, especially with the comically long-overdue 2014 induction into the

Rock and Roll Hall of Fame

. All it takes is one listen to their last studio effort

Monster

to realize the band is as solid as it has ever been, and their live performances still set the bar for bands 40 years their junior. It's only fitting that the guys get to have the final laugh with their current

End of the Road

farewell tour (when it can finally resume). Simply put, KISS has always been the ultimate force to be reckoned with, and when that final show does happen, it will be a worthy bookend to such a unique and glorious history.

Combine my deep passion for this band with an entrepreneurial spirit and you have the beginnings of the KISS ROCKS Fan Club. In late 1984, a simple eight-page black and white newsletter called KISS ROCKS debuted as one of the first KISS fanzines in an underground press that would soon expand tremendously. An ad in the back of a 1985 Circus magazine (coincidentally w/Paul on the cover, 2/28/85) started it all, and soon the membership grew to include fans in over 25 countries and almost all 50 states. Over the years I had the distinct pleasure and honor of conducting phone interviews with Eric Carr, Gene Simmons, Vinnie Vincent, and Bruce Kulick, as well as meeting all members of KISS past and present. I was also proud to see KISS ROCKS listed in the "thank you" section of the "Hot In the Shade" liner notes, where many KISS fanzines were applauded for their hard work. Fast forward to 2009 and I was absolutely thrilled that KISS ROCKS was included (and well-represented) in Gene Simmons' book 'The Ultimate KISS Fanzine Phenomenon 1976-2009' (pgs 88-89). It's a book like this that sums up exactly the relationship between the band and its fans. Highly recommended!

The newsletter was a great way for me to express my passion and dedication for the band, and a perfect venue to share it with others. It also set the stage for some of the contacts and good friends I've made along the way with whom I still correspond and trade merchandise. The funniest thing about it all was that I never told anyone my real age, because being only 12 or 13 years old, I thought that I wouldn't be taken seriously (and I never gave anyone my phone number because my pre-pubescent voice would have surely given me away!) Anyway, after finishing high school in 1991 and getting ready to head off to college (with a slightly deeper voice), I decided to stop publishing the newsletter simply because I wouldn't have the time anymore to do the best job possible. So after 7 years, I stopped publishing KISS ROCKS -- but my love for the band certainly remained.

When KISS hosted their own conventions in 1995, my interest in the original merchandise began to increase and I decided to build upon my already decent-sized collection. I started collecting anything and everything with the official KISS logo on it, and soon had my own tables at many exciting KISS conventions in 'rock cities' such as Detroit, Cleveland, Philadelphia, Providence, Boston, Baltimore - and of course the always awesome Annual New York/New Jersey KISS EXPO (where I've proudly been a merchandise dealer for 18 straight years).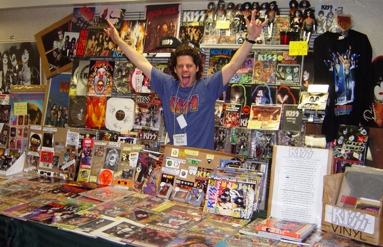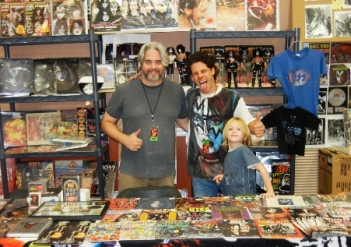 JON RUBIN @ 2006 NY/NJ KISS EXPO

JON w/DEDICATED ASSISTANT GREG IN 2012...




AND A NEW UP-AND-COMING ASSISTANT!





Around the same time, this thing called the 'Internet' blew up, which enabled fans to find that missing item for their collection from their comfort of their home (hello, ebay!). So in the same grassroots/fan-friendly spirit that I started the

KISS ROCKS

newsletter 13 years earlier, I created the merchandise website KISSROCKS.net in 1997. My web-savvy brother Cliff (again, paving the way for more of my

KISS

fanaticism) helped me design the beginnings of the site, and without his encouragement and technical knowledge, none of this would have happened. He is the "Sean Delaney" of this website and I owe him a huge, huge thanks! (Be sure to check out his awesome web design company Jonasweb for far prettier, non-KISS sites!)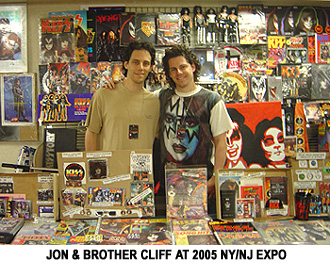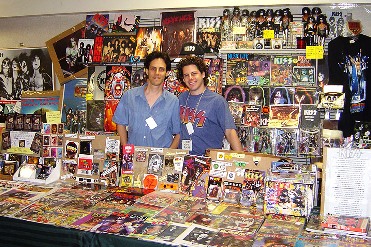 JON & CLIFF AT THE 2006 NY/NJ EXPO

The best part of it all? Between all of the EXPOs nationwide and the growth of this site over the past 20 (!) years, I have met hundreds of great fans who I see over and over again, and have had a blast buying, selling, and trading with everyone. I have also seen the band in concert 50+ times and always enjoy seeing friends and fellow collectors at the shows (click HERE for a complete list of every KISS show I have attended). I always enjoy meeting other

KISS

fanatics, and encourage you to

E-MAIL

me with any merchandise-related questions you may have, or just to chat about the band. Of course, please keep checking back for more updates, since I add new merchandise all of the time. Finally, thank you for reading this not-so-short history of who I am, why I love KISS, and why you can feel confident that you are dealing with a well-respected and legitimate fan service...