1976

HOWARD THE DUCK

MARVEL COMIC #13
(

KISS

' 1st appearances in ink, on first 4 pages [and last pages of HTD #12], as part of 'Omen of the Exorcist.' This is actually where it all started! EX+) - $10

---

1977
MUSIC LIFE

ENCYCLOPEDIA
*FROM JAPAN
(Monstrous 9" x 11"
all-KISS
bound magazine featuring amazing color pix from KISS' 1st visit to Japan. Printed on heavy duty paper w/tons of cool stuff inside, this is more like a book than a magazine...even if you don't read Japanese [!].
Still has 4-pg pull-out concert poster [unstapled], EX+
) - $45


1/79
HIT PARADER
MAGAZINE
(Great interviews with each member about their solo albums and cool story what might be next with
KISS
. 4-pg color spread, NM-) - $20


1978
TEEN STAR PULL-OUT
SPECIALS
(Great 16-page
all-KISS
poster pull-outs with great color concert & posed pix from '75-78. EX+, no pinholes!) - $15/each
5/18/78
CIRCUS
MAGAZINE
(
Paul
cover for "Will Heavy Metal Survive the '70s?" article, w/great full-page band '75 picture. Complete, w/small mailing label residue on bottom cover, EX+) - $15


10/78
TV SUPERSTAR: KISS PIN-UP BOOK
(
All-KISS
pin-up special, great color pix and articles. Missing 4 pages and centerfold, with a few loose pages in the end. Great price for this rare mag, VG+) - $15
SOLD, SORRY

4/82
TEEN BEAT'S SUPER STARS PRESENTS:

THE NEW KISS INVASION
(Great 10+ page Elder-era spread w/some
Eric Carr pages
& pix. Front cover loose, back cover missing. Tons of Brooke Shields & Ralph Macchio too [if that's what you're into]. Overall, definitely still worth it for parts! VG+) - $10

---

THE KISS YEARS

by Barry Levine


(Great 8"x 11" thick paperback from late '90s featuring Barry Levine's AMAZING color photos of the band from 1975-1981.
SEALED and comes with bonus interview CD w/the author. MINT!

) - $20



KISS ARMY:

THE ULTIMATE KISS FANZINE PHENOMENON 1976-2009


(Shiny 9" x 12" hardcover 260-page

all-KISS

book focusing on the unofficial underground KISS press over the years, along with never-before-seen color concert pix from all eras of the band [mostly from Gene's personal collection]. This focuses on individual fanzines in the U.S. and in the world, including a 2-pg spread on...

KISS ROCKS

! Check it out! NM

) - $25


SEX, MONEY, KISS by GENE SIMMONS
(
Gene
's 2003 follow-up autobiography to the best-selling Kiss & Make-Up, featuring the Demon's unique advice on how to succeed in the world; funny, inspiring and a bit shocking, all at the same time! MINT [this copy is
not
autographed]) - $20

---

OFFICIAL 1977
ALIVE II
SONGBOOK
(Features guitar/lyrics for all songs from this classic live 2-LP, w/8 awesome color live 8x10 pages from the Love Gun tour. Learn to play these
KISS
classics the right way! Not that common, EX+) - $45


OFFICIAL 1978
DOUBLE PLATINUM
SONGBOOK
(Features guitar/lyrics for all songs from this classic Greatest Hits double album, w/4 great color live 8x10 pages and nice foreward by Neil Bogart. Learn to play these
KISS
classics the right way! Pretty hard to find, EX) - $45

OFFICIAL 1976
ROCK AND ROLL OVER
SONGBOOK
(Features guitar/lyrics for all songs from this classic LP, w/great 8x10 b/w 'starry' posed photo pages. Learn to play these
KISS
classics the right way! EX+) - $30

---
U.S. ALL-KISS MAGAZINE SPECIALS & COVERS ('80s-early '90s)


3/85 HIT PARADER
(

Gene/

Paul Animalize-era cover. Complete, NM
) - $10

1987 ANABAS
ALL-KISS SPECIAL
**FROM ENGLAND**
(RARE glossy mag complete w/rare & unique color make-up & non-make-up posed & concert shots, 35 pages. Some great

ERIC CARR

-era make-up shots. MINT
) - $10

4/89
SONG HITS
(Featuring lyrics to "Rock and Roll All Nite" and nice 3-pg interview, plus tons of lyrics to other rock songs of the late '80s. NM
) - $10


5/93 GUITAR FOR THE PRACTICING MUSICIAN

MAGAZINE



(
Gene
&
Paul
cover w/Scott & Danny from Anthrax; cool fun article w/4-way interview with our heroes and a few of their disciples.
NM-) - $8


'80s
KERRANG!!!
MAGAZINES
**FROM ENGLAND**
(Awesome UK mags with tons of
KISS
and other hard rock giants, plus cooler obscure stuff from both shores. Each mag is COMPLETE and Near Mint) - $15/each
| | |
| --- | --- |
| 1/30/88 | 2/13/88 |


1996

KISS LIVE!

PHOTO MAGAZINE **FROM ENGLAND**
(Awesome all-

KISS

36-pg mag with amazing

Gene

Creatures

-era cover [& pull-out poster still stapled in],
with

great pix from all eras on heavy glossy paper. NM-) - $15



3/99

HARD ROCK

CIRCUS MAGAZINE **FROM FRANCE**
(Oversized, 95% sealed mag featuring a rare double

Gene

&

Peter

cover [part of a set with a matching Paul/Ace cover],
with

great pix from Psycho Circus tour. Comes with free Suidical Tendencies CD, NM) - $15

| | |
| --- | --- |
| | BACK |


1999

CLOWN WHITE

MAGAZINE **FROM ENGLAND**
(

Gene

's cover, 1 of 6 different cool & collectible

all-KISS

mags from the U.K., feat. articles & photos from all eras, all members.NM) - $10




KISS STRIKE 2002 CALENDAR **FROM ITALY**
("Hot Shots!" -- Great color photos, line-up with

Ace

and featuring Eric Singer in 'Catman' make-up, M) - $6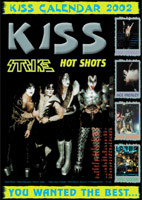 2003 CLASSIC ROCK MAGAZINE **FROM ENGLAND**
(

Gene

&

Steven Tyler

share this awesome cover to celebrate

KISS

' 'World Domination' tour featuring both legends, M-) - $10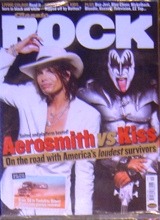 10/98

GOLDMINE MAGAZINES
(Newspaper-sized trade paper w/each featuring great photos & interviews, w/lots of pages, NM
) - $10 each
***SPECIAL - TAKE ALL 3 GOLDMINES FOR ONLY $27***

8/16/96 ENTERTAINMENT WEEKLY
(Great cover w/"On the Road with KISS" article, M) - $7


2/02 SPIN
MAGAZINE
(50 Greatest Bands of All-Time article, featuring our heroes [!]. Nice pix and cool mag overall, NM) - $8

8/97 P.O.V. MAGAZINE
(Awesome KISS cover from this long-gone lifestyle magazine. 'The Vice Issue', featuring our favorite bad boys. MINT) - $7

8/98 KISS...AND FRIENDS
(Great
Gene
'96 cover w/
Psycho Circus
LP preview and cool "KISS Through the Years" photo retrospective, + good articles on
other late-90s rock bands, M-) - $8


OFFICIAL KISS QUARTERLY MAGAZINE #1
(Straight from the band to the fans! This premiere issue of their official
all-KISS
fan magazine is full of awesome interviews, photos, flashbacks, etc.
Mint 1st edition copy, long out-of-print, STILL SEALED) - $7


12/98 METAL EDGE
(Inside the
Psycho Circus
LP & tour, great pix + good article, M) - $8

8-9/12 BOOMER LIFESTYLE MAG
(Great 'Monster' cover shot featuring article on KISS tour & their charity work w/U.S. veterans. Originally free in central Virginia. NM) - $10


COMPLETE SET OF

GENE SIMMONS TONGUE MAGAZINES #1-5
(All 5 MINT unread copies of Gene's now-defunct men's entertainment magazine, long out-of-print and pretty hard to find as a set, all MINT - plus, don't be fooled by the celeb-heavy covers - there's some cool

KISS

stuff in each of these too!) - $45/set of 5


---
PSYCHO CIRCUS COMICS & MAGAZINES

PSYCHO CIRCUS MAGAZINE #1 (1st edition, Premiere issue, M) - $12




PSYCHO CIRCUS MAGAZINE #2 (1st edition, M) - $10


---

KISS THIS!

FANZINE


(Early '90s Australian 'zine, tons of great articles and reviews, NM) - $5




STRIKE MAGAZINE SET OF 4
(Awesome '90s Italian fanzine, wide range from '90 - '98, each NM) - $3/each *just tell me which one(s) you need!




2/00 INCITE (Gene cover, PC Gaming mag w/ 12-page story on new KISS Game video, NM) - $2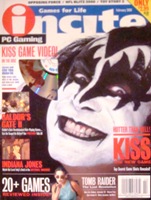 1997 ENTERTAINMENT GUIDE (KISS

'Spirit of '76' cover

, good article about new trading cards,
supplement to 7/12/97 Sport's Collector's Digest, sealed w/entire magazine, M) - $3




10/98 WIZARD COMIC MAGAZINE (w/awesome KISS supplement "Source book", M) - $2


'EYE' 6/10/99 - Toronto's main entertainment newspaper weekly, featuring a good review of Paul Stanley in "The Phantom of the Opera"and a nice photo of Paul on page 3 (Great article with tons of KISS references!, M) - $3

9/96 UNIVERSITY REPORTER
(D.C. College monthly, nice insert group color cover w/Gene interview about the Reunion tour *conducted by Kissrocks' Jon Rubin, M) - $3

8/9/96 PROVIDENCE PHOENIX (Rhode Island Ent. guide, Gene b/w cover, M) - $3


3/00 THE REP (Phoenix, Arizona Ent. guide, group Farewell cover, M) - $3


6/99 REAL DETROIT (Color cover w/ 'Detroit Rock City' cast on cover & movie feature inside, cool KISS pictures too, NM) - $3


5/00 REAL DETROIT (Color KISS cover w/ 3-pg "Kiss Off" Farewell tour article, NM) - $3


***SPECIAL - TAKE THE LAST 6 NEWSPAPER-STYLE MAGAZINES FOR ONLY $12***