k

KISS ROCKS' EXCLUSIVE INTERVIEW WITH LORETTA CARAVELLO

This interview was conducted in February 2005 with Eric's sister Loretta, who runs the official Eric Carr site www.ericcarr.com and has done a truly honorable job in keeping her brother's memory alive. She was kind enough to take the time to answer these questions, so please visit her site and check out all of the great Eric Carr merchandise, tributes, charity auctions, Fox news & Fox links available through www.ericcarr.com. Thanks again Loretta!
---
JON RUBIN/KISS ROCKS: Loretta, thank you for your time in answering these questions. I appreciate it very much and I'm sure many, many Kiss/Eric Carr fans will enjoy reading this!
LORETTA CARAVELLO: My pleasure, Jon.
JR: Eric was playing drums in various club bands in the 60s and 70s before joining KISS. What did you think of your brother's goal of being a full-time professional drummer, and how did your parents feel about it?
LC: Well, we knew he always loved The Beatles and that he was talented, but we also knew that it was a hard field to succeed in, but the thing Eric had going for him the most was that he was willing to work hard, and that was the one deciding factor, that in our hearts we knew he would be successful.
JR: Were you old enough to get into the bars he was playing and see some of his bands at the time?
LC: We always went, my Dad and Mom were his managers and me and my sister would be like his roadies. We would all jump in Dad's van on weekends and be at every show helping.
JR: Do you remember the day Eric told you he was auditioning for the available drummer slot in KISS, and what was your reaction? Were you a KISS fan before your brother auditioned to be in the band?
LC: Yeah okay, tell me another one Paulie. We thought he was joking. I never really got into the KISS music before he was in the band.
JR: Most fans know the story of how his audition went and that he asked for the guys' autographs before leaving, just in case he'd never see them again. Do you remember what he told you and/or your parents upon coming home that fateful day? How did he describe the audition to you? Was he particularly positive or negative or neutral about this once-in-a-lifetime experience?

Eric's 1st time backing up the hottest band in the land, 7/25/80 at The Palladium in NYC

LC: He told us how proud he was to be there and felt as though he did very well. I think he knew he had it because he was very upbeat.

JR: What were your first thoughts when you found out he got the position as new drummer in KISS – excited? nervous? jubilant? Were your parents ever at all worried that he was joining a band of rock n' roll "bad boys"? (albeit rich and famous bad boys) How did it affect the whole family?

LC: It was like a dream come true to all of us. I think we really had no idea what it would be like, and as it turned out, we always were the same. We never changed. In the beginning it was very hard to keep the secret; it was strange to say to people at work, 'Hey my brother is famous, but I can't tell you who he is' - so in the beginning it was hard.


JR: What was your first experience meeting Gene, Paul and Ace? What were your initial thoughts upon meeting each guy individually? Were they in or out of costume?


LC: They were all very nice and warm to us. I remember them with the make-up, in the Palladium. That was the first show we meet them and we only went backstage just to wish Eric luck. So it was quick, but warm.

JR: I assume the whole Caravello crew was cheering Eric on at that 1st show at the Palladium in July 1980. What did you think of the performance overall? Was it the first time you had seen KISS? What did your folks think of the music and overall intensity of the show?

LC: I never realized how great my brother really played, and to be honest, every time KISS did a song, I said to myself, 'I didn't know they did that song.' So it was a very enlightening event overall. It was great!


JR: Did you see Eric trying out his "hawk" costume/make-up? Did you think he really looked like a chicken the way many people (including him) have joked he did?


LC: We never got to see him in that outfit...thank goodness!

Eric rocking out at The Palladium in 1980, the only U.S. "Unmasked" performance

JR: Even though Eric toured for "Unmasked", his 1st studio album with the band was quite a departure from what fans (and probably Eric) expected. What were your thoughts upon hearing '(Music From) The Elder' in 1981? Were you disappointed that Eric's 1st album with the group was unfortunately the 1st to not feature any band members on the cover?

LC: 'The Elder' happens to be one of my favorite albums, I believe the reason it didn't do so well was because the band itself played it down at this time.

JR: KISS fans were very accepting of Eric because he was so likable and he proved himself immediately. Did Eric ever share with you the most meaningful fan encounter he experienced early on? Any stories of the fans greeting him in Australia on that 1st tour or anything touching like that?

LC: Australia was one of the best tours for him. He was so excited that he saved almost all his papers, cards and letters from that tour. He always spoke highly of the fans and would rather spend time with them than go to fancy parties. I do recall Eric having quite a time with one fan who insisted she was married to Eric. Every hotel he went to, she would call and ask for her husband. He told us once that can be a scary thing, but after awhile, he never heard from her again.

JR: Eric and Peter Criss supposedly had a very close friendship. Can you describe what their relationship was like and the mutual respect they had for each other throughout the years? There's that famous picture of the 2 of them backstage at Radio City Music Hall in 1984 on the Lick It Up tour…do you know how often they got to see each other? Do you know what Peter thought about Eric's thunderous drumming?

LC: Eric always thought of Peter as the first KISS drummer; he respected him very much and Peter was a perfect gentleman to Eric. They spoke many times. A lot of times when Eric was not feeling well, Peter was always there to help him. I do speak to Peter and GiGi from time to time and they are very kind and always have great thoughts of Eric.


JR: Eric and Ace were also very close when they were both in KISS, and they stayed that way long after Ace left the group. What was their relationship like in general and what do you think contributed to their special bond? Their wild senses of humor?


THE CAT & THE FOX: Eric with Peter Criss in a rare moment backstage at Radio City Music Hall in NY 3/9/84 during the Lick It Up tour
LC: Like Peter, Ace was always there for him. They would go away on vacation sometimes, and Eric would spend a lot of time with Ace upstate in his studio.

JR: Eric is definitely credited with helping KISS grow into and survive the non-make-up 80s (not to mention definitely balancing out the ugliness of the group!). Did Eric feel he played a role in helping the band re-establish their rightful place in the rock scene? Because he really did…

LC: Oh yes, he realized that his playing did help them to become a much heavier band, because of how hard he played.
A rare Creatures of the Night in-store appearance from 1983.
Photo courtesy of kissfanshop.com


JR: Many KISS fans believe one of the strongest line-ups was the 'Creatures of the Night'-era with Vinnie Vincent on lead guitar. Do you know how Eric and Vinnie got along, and what was your impression of "The Wiz" on guitar? Do you know if Eric was disappointed when Vinnie was fired from the band in early 1984?

LC: Eric liked Vinnie very much. I have hundreds of shots that Eric took of him from his personal album and it seemed they were always kidding around in photos. Vinnie was a great guitar player and Eric was sorry to see him go.


JR: Hearing Eric sing live was a real thrill. How much did he enjoy singing a KISS gem like "Black Diamond" towards the end of every night? He definitely has a distinctive voice, but did he agree it was cool that he sometimes sounded like Peter?
l

LC: His voice had some of the same roughness as Peter, but I think I liked his voice better when he would sing a ballad, like "Tiara", from 'Rockology.'

JR: What did you think of his long overdue 1st vocal appearance on vinyl, with "Beth"? ('Smashes, Thrashes & Hits', 1988)

LC: He really poured a lot of heart in the song. His version was also wonderful, like Peter's of course.

JR: Have you seen KISS in concert without Eric, and if so, how do you compare the Kiss line-ups from 1980-91 with Eric on drums, versus the various ones that have existed from 1992-present? Have you noticed a change in the audiences as well?

LC: I went to see the band in 2000 as Peter's guest and it was very nice. They sounded really good. Peter and Eric had a different style, but they were both meant for KISS. I noticed a lot more young faces, no doubt the kids of the original KISS fans. It was a new generation.

JR: What do you think Eric was most proud of when looking back on his time in KISS?

LC: Being able to reach his dream and play with the greatest band in the land!

JR: How about a few of his proudest moments of his life, would you be able to share or guess what they might be?

LC: Well no doubt being in Kiss, but also probably more so the bravery that he showed when in 1974, he managed to save the lead singer of his band Creation, from a fiery disco. That is a great thing to be proud of.

JR: What has your experience been like dealing with lots of KISS fan clubs, websites, conventions, etc. over the years?

LC: Everyone has been so kind to us and they are always thinking of different ways to keep his memory alive. They're the best!

JR: Are you at all surprised to see how much Eric's legacy has lived on? What is your reaction when you see handmade Eric Carr Mego dolls, unique artwork and other labors of love commemorating your brother? How about people at Expos who still dress up as "The Fox" and come over and say hi to your parents, take pictures with them, etc.?

LC: I am so proud of Eric, and the fans who will never forget him.

JR: Any message for the KISS/Eric Carr fans around the world who may be reading this?

LC: Please always follow your dream and NEVER GIVE UP!! Please vist www.ericcarr.com for all the latest Eric news.

JR: Thank you Loretta!

LC: Sure!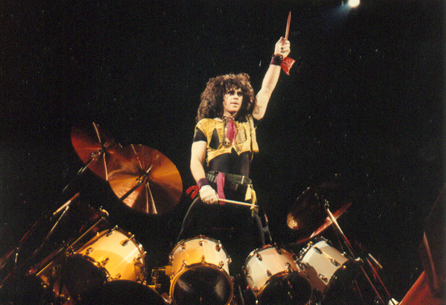 *Special thanks go out to Loretta Caravello for doing this interview and for being such a great help and inspiration for this Eric Carr tribute page!
EC: Now p