was proud to be the official site of...h
THE NEW ANNUAL

CLEVELAND KISS EXPO

l
AND ROCK COLLECTORS EXPOj
PLEASE NOTE: "The 1998 Cleveland KISS Expo is in no way related to the disastrous 1997 Cleveland KISS Convention. The promoters are completely different and are the same people who bring you the New York, Philadelphia, Chicago and Toronto Kiss Expos."
---
Well folks, the Cleveland EXPO has come and gone, and what an excellent show it was. A very strong turn-out of dedicated fans as well as some newcomers to the KISS collecting scene filled the spacious room all day long, oohing and aahing (and occasionally buying) some of the rare and unique memorabilia available that day. A few collectors guitars, a couple of lunchboxes (w/ thermos), and a KISS sleeping bag still sealed were probably he hardest to find items there. I should also add that a few sets of the new Psycho Circus figures were available there, but for much higher than store prices since they had just come out that week.
The day's events were highlighted by a great Q & A with ex-KISS drummer Eric Singer, who also surprised the eager crowd with a guest performance with the EXPO's tribute band, Pittsburgh's own "Mr. Speed." The band rocked out on "Strange Ways" and "Black Diamond," both of which Eric sang. He signed autographs for a few hours afterwards, and was in very good spirits and genuinely friendly to everyone. He also spoke of a tribute cd to his favorite 70's rock artists that he is putting together with Bruce Kulick, Gilby Clarke, and some other friends. Be on the lookout for that shortly.
As for "Mr. Speed," they put on a great 90 minute show, complete with a smoking guitar solo, fire-breathing, and mega-loud pyro that at times rivaled the volume of an actual KISS show. Mr. Speed included some really obscure songs in their set, which is so refreshing to finally hear a tribute band do some different material. From "Sure Know Something" to "Sweet Pain" to "Talk To Me" to "Kissin' Time" ("we're kissin in Cleveland...."), the impressed crowd was with these guys all of the way, and they put on a great show from start to finish. Thanks for a great concert, fellas, and we hope to hear more from you soon....
We are archiving below all of the information from last year's Cleveland KISS EXPO for your viewing pleasure, and be sure to keep your calender open for more KISS EXPOS coming your way this year and in the upcoming months. Click HERE for information on the upcoming 4th Annual Cleveland KISS EXPO, which is on August 29, 1999.
---
THE NEW ANNUAL

CLEVELAND KISS EXPO

AND ROCK COLLECTORS EXPOj
s
WHEN:SUNDAY, JUNE 28, 1998, 11AM - 8 PM
WHERE:ROLLER WORLD CENTER, PARMA, OH
5310 Hauserman Rd (I-480 & Tiederman)
WHY:Tons of KISS DEALERS from all over the world, Eric Singer Q & A and autograph/photo session, "Mr. Speed" KISS tribute band
performing live, rare KISS video show, free door prizes and giveaways,
and much more...just a day full of KISS and other great hard rock music!
COST: Only $13 in advance, $15 at the door
SPECIAL GUESTS
APPEARING AT THE CLEVELAND EXPO:
ERIC SINGER
(KISS drummer 1992-1996)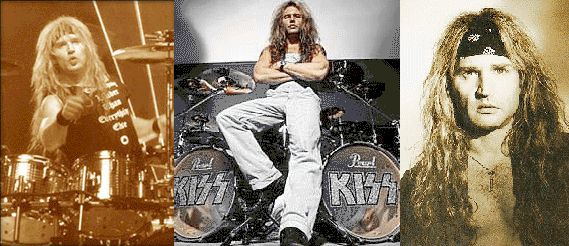 Eric will be signing autographs, answering questions, and posing for your photos!
MR. SPEED
Pittsburgh's incredible KISS tribute circa 1977 will floor you with their Love Gun tour re-creation, costumes, and rare song selection!
DON'T FORGET TO VISIT THE KISS ROCKS TABLE AT THE EXPO, FOR TONS OF RARE MERCHANDISE AND FREE PROMO GIVEAWAYS!
Be sure to get your tickets in advance and make your plans to attend NOW!!!!
Don't miss this tradition of all KISS traditions...see YOU there!